How to Improve Network Security in Healthcare Practices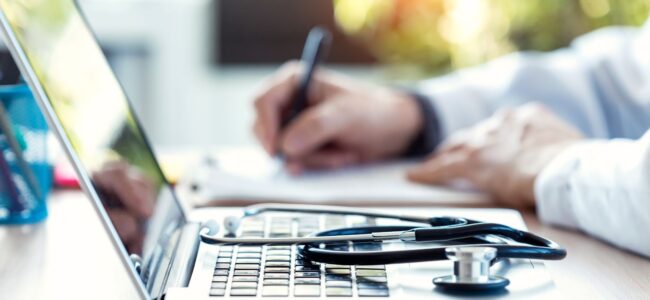 With the changes that have taken place in our world due to the pandemic, healthcare practitioners have turned to technology to help them connect with patients online. While this new tactic is beneficial for many workplaces, it doesn't come without its risks. One of the biggest threats is a network security breach. 
Let's take a look at some ways you can protect your patient information and your team from these security risks. 
Teach Your Staff About Keeping Data Secure and HIPAA Requirements
It's important to have multiple security measures in place to counter the neverending attempted breaches that target providers on a daily basis. It's imperative that practices implement the most robust security controls to ward off unwanted security breaches in your network. Your team also needs to be educated on how their daily security practices could potentially jeopardize the integrity of your medical practice. 
Attacks such as phishing and spoofing work by taking advantage of the lack of email security knowledge that your employees may have. One way to prevent this is to provide mandatory cybersecurity training to help employees understand how to keep the organization's systems and data secure. Providing them with up-to-date trends of cyberattack tactics and news may protect your company in the future. 
Encourage Password Variation
Many websites and platforms require passwords to protect important information. In fact, according to research by NordPass, a password manager, the average person has 70-80 passwords they need to keep track of and remember. As you may have experienced in your own day-to-day life, it can be difficult to remember so much information. Many users choose a variation of what they have already used in the past or just continue utilizing the same combination over and over again. This can be dangerous for healthcare companies, especially if common or weak passwords make their way from personal use to work. 
Implementing a mandatory password change every 30 days (a HIPAA requirement) to include only strong password criteria (UpperCase, Lower Case, Numbers, and Specials Characters) is one of the most critical and simple changes that can be launched.   Encouraging employees to change their passwords and partnering with a team like OC Cloud9 that offers advanced password protection measures can help protect your medical practice and employees. 
Update Software in a Timely Manner
There is a reason why software developers regularly release updates for applications. No system can be perfect, especially in an environment where network security is constantly evolving. Patching up these systems keeps you protected from hackers breaking in due to software vulnerabilities. Another option is to rely on a team who cares about you and protects your data to keep your systems secure. 
Interested in learning more about protecting your patients' data with our HIPAA Compliant Cloud Services? Reach out to our team today and learn how we can customize your cloud to fit the needs of your practice. 
Get to Know the OC Cloud9 Team
We established OC Cloud9 to help bring the highest-quality service and cutting-edge innovations in private cloud technology to local businesses in the Southern California area.
Born from Orange County Computer, Inc., comprehensive IT Solutions and Network Security experts with over 20 years of experience in the local area, OC Cloud 9 offers large-scale technology solutions and consultancy services to companies and organizations in a wide variety of fields with network security as one of our primary focuses of concern.
Our mission is to treat our customers' businesses as if they were our own. Too often, we see companies operate with IT infrastructure that is outdated and just waiting for an attack. Their current systems don't align with their company and its goals or effectively work to achieve them.  At OC Cloud9, we proactively protect our client data by staying one step or more ahead of potential data breaches. Our team is passionate about data security and protection. 
OC Cloud9 and Orange County Computer, Inc. have a proven track record of happy customers with seamless transitions into private cloud solutions. Our beginning-to-end process ensures your business needs are met through extensive research, design, deployment, and implementation of your cloud services.
Learn more about our solutions by visiting our Learning Center or speak with a member of our Cloud Solutions Team any time at our Orange County office by calling 949-449-2808
You might also like