Save Money & Scale With a Private Cloud Infrastructure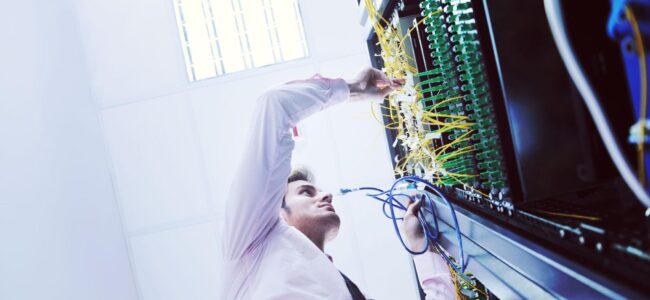 As a business owner, you have an obligation to your customers' data. From names and contact information to sensitive banking credentials, it's your responsibility to keep it protected – but what are your options?
Maybe you're currently running a legacy IT system with servers onsite, which is awfully expensive, or are already set up with a public cloud infrastructure, which often comes with hidden costs. For businesses small and large, we have a suggestion that'll save you capital and scale your growth: a private cloud infrastructure.
Public Cloud vs. Private Cloud Infrastructure
While a public cloud is delivered online and shared across different organizations via resource pooling, a private cloud infrastructure offers more restricted access. In other words, a private cloud is dedicated to your organization, and yours alone, rather than a public cloud which houses your data on the same physical server as a handful of other companies. 
This type of cloud infrastructure offers a number of benefits, most notably in terms of cost savings and scalability, as you'll discover.
Reduce On-Premises & Public Cloud Costs
A private cloud infrastructure not only saves you money on high legacy IT costs, but can even run less than a public cloud setup for some organizations, according to a study by 451 Research. With all of the hidden charges associated with a public cloud, such as network bandwidth costs, experts found that many businesses are only aware of their monthly costs once the bill arrives. The study also found that over 40% of IT decision-makers see lower expenses with a private cloud infrastructure versus a public cloud. 
Flexible & Scalable
While this can be said for most cloud environments, the virtualization of a private cloud infrastructure makes it quite flexible – making it easier to scale your business. Most modern businesses, especially mid-sized and larger companies, run a number of different applications on dedicated servers. This allows for companies to dedicate more or less resources to certain servers depending on the need. 
A shared design software, for example, may require more RAM or bandwidth than, say, an email application. A private cloud infrastructure allows you to increase or decrease these resources so that you ultimately get the most out of your servers. 
By getting more out of less, your business will have more resources and leftover capital to allocate to other goals, such as hiring or building a new client base – giving you the freedom to scale at will.
Opt for a Private Cloud Infrastructure with OC Cloud 9
Legacy IT infrastructures can leave you open to data-hungry cyberattacks, while public clouds tend to run high in expenses. Instead, consider migrating to a private cloud infrastructure for dedicated service, research-backed cost savings, and a boost in scalability. 
Meet the OC Cloud 9 Team
OC Cloud9 and Orange County Computer, Inc. have a proven track record of satisfied clients with seamless transitions into private cloud solutions. Our beginning-to-end process ensures your business needs are met through extensive research, design, deployment, and implementation of your cloud services.
Learn more about our solutions by visiting our Learning Center, or speak with a member of our Cloud Solutions Team any time at our Orange County office by calling 949-699-6619.
You might also like