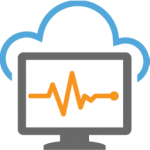 HIPAA Compliance, an all too familiar buzzword in the Healthcare Industry has been one of the many catalysts pushing change in current Cloud Solution infrastructure parameters and security solutions provided by specialized IT Solutions providers. The increased Provider demand for HIPAA compliant Cloud Solutions that align with the HITECH act of 2009 creates many potential patient health information (PHI) data breaches for practitioners. It's critical that Health Care Providers are properly informed by their IT Solutions Provider about issues of compliance. Protect your practice and your patient information by working with OCCloud9!
Encrypted Email / Data
Rest assured with Cloud9, E-mails and Data are encrypted per the HITECH Act of 2009 and HIPAA Compliance. Send and receive patient information without worry of compromise or breach.
Transmission Security
Health Care Providers can transmit data securely. OC Cloud9's secure protocol for Inbound and outbound data is fully encrypted via secure cloud transmission protocol design.
Virtual Desktop Security
User workstations are accessed securely. All patient Data is encrypted and protected in our cloud. Password Security Protocol and accessibility procedures which include Auto Log Off and mandatory password criteria help to keep securely stored data.
Mobile Device Security
The greatest HIPAA security breaches can occur with the use of Mobile Devices. OcCloud9 follows security criteria for ePHI and offers enforced password security protocol and accessibility procedures
Which includes auto time-out features for all staff and principles.
Multifactor Authentication and Remote Device Wipe Protocol as part of compliance.
Access Control
ePHI is stored securely yet can be easily accessed by all staff, whether they work onsite at a medical center or across the country in the billing office. All users experience the same level of secure access and ease of use without compromising the integrity of ePHI. Cloud Users will have mandatory password policies and time-out features enable to ensure patient privacy.