Adjusting your Spam levels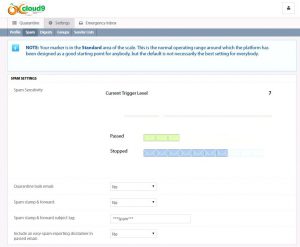 Customize Spam Filtering
Some users might need different spam filter levels or options set. End Users (and admins) can manage their own filter settings.
Silent Users also have personal, customizable settings – but these must be set and managed by an admin. They don't have access to login and manage their own settings.
Spam Sensitivity (slider)
This feature has a wide range of settings (2 – 22) which endeavor to meet the needs of all users. The range includes:
Very Strict: 2 – 3
Strict: 4 – 5
Standard: 6 – 8
Loose: 9 – 14
Very Loose: 15 – 22
Within each of these ranges is a fine tuning range to keep detection in as small steps of increment that is required to detect and manage modern sophisticated botnets. (The lower the trigger level, the more spam is stopped. The higher the trigger level, the less we stop spam.)
Require admin to release phish emails:
Any message that is identified as a phishing attempt can not be released by an End User or Silent User. If they attempt to release a phishing message from quarantine, get the message "Email cannot be released without admin privileges, please contact your administrator"
Quarantine Bulk Email:
What the setting does:
Quarantine bulk email will quarantine emails if they are scanned and are identified as "Confirmed Bulk Email" based on numerous factors also of your spam sensitivity level.
How It functions:
When an Inbound mail arrives, and the spam setting "Quarantine bulk email" is checked. We scan the email and add additional bulk factors to the email if found to be a "Bulk" email.
Depending on your Spam Sensitivity Trigger Level if the email is "Confirmed Bulk Email", this will add factors. If the overall results over your trigger level, it will be quarantined. If the overall results below your trigger level, It will not be quarantined.
Spam stamp & forward:
Most users want their spam filters on. To allow potential spam to get through, you could choose to enable Spam stamp & forward for the email addresses. The following settings are available:
No – (Default Setting) Quarantine spam email. Deliver all others
All – Deliver all messages, but stamp spam email with the subject tag below.
Partial – Delivery non-spam email normally. Quarantine very spammy email. Deliver moderately spammy email stamped with the subject tag below.
Spam stamp & forward subject tag:
This is the actual text that will be added to the beginning of the subject line of emails classified as spam if Spam stamp & forward is enabled. The default setting is ***Spam***, but this can be changed based on your preference.
Include an easy-spam-reporting disclaimer in passed email:
This option allows you to report received messages as spam directly from the email message itself.
You might also like