Kaseya Cyberattack: Ransomware Risks Associated with On-Premise Hardware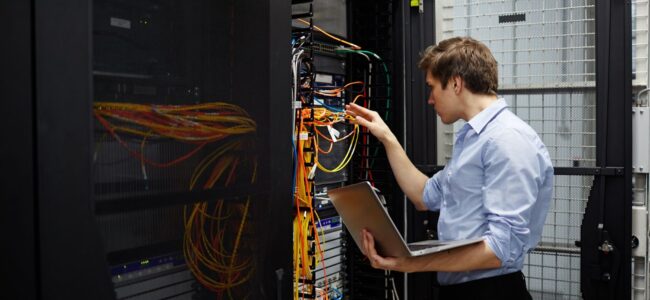 Kaseya, an IT management software company, was hit with a ransomware attack on July 2nd, causing widespread downtime for over 1,000 companies, including their service providers and customers. In fact, a grocery store chain in Sweden called Coop had to close more than half of its 800 stores due to the attack.
The threat group, REvil, targeted Kaseya's remote management service and pushed a malicious software update to their customers. The attack mainly impacted those with on-premise hardware solutions provided by Kaseya.
Let's take a look at the ransomware risks associated with on-premise hardware infrastructure and how OC Cloud9 can help your company protect its data with our cloud solutions.
Avoid Ransomware Risks Associated With On-Premise Hardware
Attacks, like the one on Kaseya, are a huge wake-up call for businesses in every industry. How are you taking the necessary precautions to protect your network and data?
Utilizing an on-premise solution may feel like the safest bet for your data. However, the labor and resources needed to help ensure a safe and secure solution are not always possible with this type of solution. Hackers love a single point of entry and failure, which is highly likely in a physical on-prem hardware environment.
With how often new risks and exploits are discovered, it is useful to have a solutions provider already actively protecting your environment from catastrophic intrusions. Moving your valuable company network and data lifeline out of your office and into our secure data center guarantees that you have a team to monitor and prevent threats from happening by addressing vulnerabilities such as security holes. If something does arise, our team is ready to respond with full force when your information is threatened.
When migrating your network into a cloud environment, your data is protected and locked down, while being actively managed by our team of cloud engineers. Your data is continually backed up throughout the day to help mitigate the effects of potential threats.
Are you ready to reduce the threat of ransomware risks by moving your data from an on-premise hardware infrastructure into a cloud solution? Contact a member of our team today for more information on how you can safeguard your business against intrusions and cyber threats with our services.
Meet the OC Cloud9 Team
We established OC Cloud9 to help bring the highest-quality service and cutting-edge solutions in private cloud technology to local businesses in the Southern California area.
Born from Orange County Computer, Inc., comprehensive IT Solutions and Network Security experts with over 20 years of experience in the local area, OC Cloud9 offers large-scale technology solutions and consultancy services to companies and organizations in a wide variety of fields with network security as one of our primary focuses of concern.
Our mission is to treat our customers' businesses as if they were our own. Too often, we see companies operate with IT infrastructure that is outdated and just waiting for an attack. Their current systems don't align with their company and its goals or effectively work to achieve them. At OC Cloud9, we proactively protect our client data by staying one step or more ahead of potential data breaches. Our team is passionate about data security and protection.
OC Cloud9 and Orange County Computer, Inc. have a proven track record of satisfied clients with seamless transitions into private cloud solutions. Our beginning-to-end process ensures your business needs are met through extensive research, design, deployment, and implementation of your cloud services.
Learn more about our solutions by visiting our Learning Center or speak with a member of our Cloud Solutions Team any time at our Orange County office by calling 949-449-2808
You might also like