Outlook Windows
The following directions will only work for OC Cloud9 customers. This setup is Windows desktops using Outlook 2010 SP3, 2013 and 2016.
Autodiscover Records
In order to setup Outlook on Windows autodiscover must be setup for your domain. If you are unsure or Outlook setup fails please contact OCCloud9 Support.
You may also check your email using a browser by navigating to https://outlook.occloud9.com/owa
Mail Setup for Outlook:
Open Outlook and click Next.
Click Next
Enter your Info: Your Name, Email and Password, the Click Next
Check "Don't Ask me about this website again" and click Allow
If prompted Re enter your password. Check "Remember my credentials" if you wish to have Outlook remember your user and password.
(Make sure that Outlook is trying to login as you. It will say Connecting to . Email address should be your email address)
Click on Finished. Outlook will now open and begin to sync your email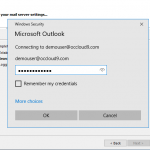 5. If prompted Re enter your password. Check "Remember my credentials" if you wish to have Outlook remember your user and password. (Make sure that Outlook is trying to login as you. It will say Connecting to <email address> . Email address should be your email address)
The screenshots shown are from Outlook 2016