Benefits of a Virtual Desktop for New Businesses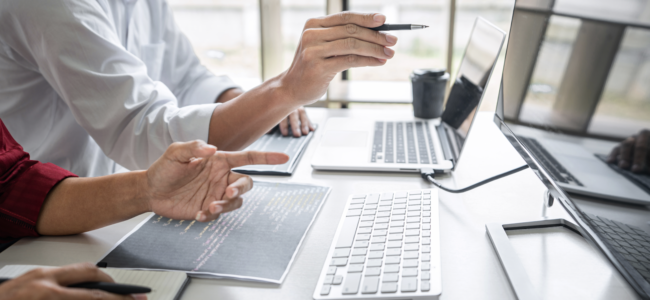 Starting a new business can be both an exciting and challenging time. One of the most important steps in the process is getting your systems up and running so your employees can get started. 
A virtual desktop is the separation of a desktop environment and the associated hardware from local devices. It stores all information in a cloud, benefiting your new company by allowing your employees to work from at home, in your office, or from anywhere in the world. 
At OC Cloud 9, our virtual desktops allow your business to host and centrally manage desktops in the data center. Read on to discover more benefits of a virtual desktop for your new business. 
Access on Personal Machines 
In our current world, it is difficult to decide whether employees will be working at home or in the office. In many cases, companies are taking a hybrid approach. Virtual desktops make working from home easier by allowing employees secure access to every software program and files they use at work on their personal computers. 
Flexibility
Rather than uploading software packages to a local machine when onboarding new employees, virtual desktops allow you to grant access to applications already stored on the server with a simple click. This means that no matter what programs your employees are using, a virtual desktop can be customized specifically for their user level.  
Easy to Maintain
With all files and applications centrally managed on the cloud, end-users no longer need to individually download and install necessary programs themselves.  By choosing to start with a virtual desktop through OC Cloud 9, you save IT management and individual hardware costs. In addition, you will also receive our services of managing your data and applications. 
With OC Cloud 9, you can feel secure in knowing that your business is getting started on the right foot. Our Cloud9 Complete Business is a great way to get your business started by simplifying technology infrastructure upfront and streamlining processes from the beginning. 
At OC Cloud 9, we recognize the importance of having the right infrastructure that supports your work. Our Accelerated Graphics provides you the comfort in knowing that you can turn any device into a high-performing graphical environment with all of your files and programs exactly how you want them.
 As we look towards the future, virtual desktop integrations are clearly a strong choice for Orange County businesses. Agile and transformative, OC Cloud 9 – based in Lake Forest – customizes Cloud, IT, and cybersecurity solutions to keep your team on track and your data secure. Focusing on responsive, relationship-based support, our team of local experts has been working in IT services for over 20 years. We bring a complete, local technology solution for your Orange County business needs. We conveniently serve our clients throughout Southern California and beyond, offering both remote and on-site services. 
 Visit our website to learn more about the technology solutions we offer for companies of all sizes.
You might also like