Managed Cloud Solutions: Arriving at the True Total Cost of Ownership
Total Cost of Ownership (TCO) analysis – a major reason companies migrate to the cloud – typically consists of pure number crunching. For example, hardware for a server upgrade has a fixed price, as does the software license. Paying for those incremental resources through a utility billing model is often much more cost effective. It's an important set of calculations, and one that increasingly leads companies to make the jump to the cloud.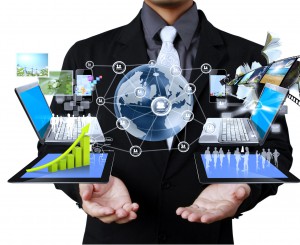 Once that decision is made, however, there is another important choice between a managed cloud — where the vendor actively manages, patches and troubleshoots your cloud environment — or an unmanaged cloud, where your central IT department has to do that on its own. TCO plays an important part of this decision as well, but often, companies miss critical variables that only provide part of the "true" picture. For example, how do you price out the value of time to market? … or employee morale? …or deepening your current IT staff's skills with more value-add capabilities?
Here are four considerations to consider that get companies closer to a true TCO when evaluating managed versus unmanaged cloud:
Competitive advantage
Time to market
Adaptability
Employee satisfaction
Competitive Advantage
Often, businesses choose to heavily finance one capability to the detriment of another. Market conditions, compliance mandates or IT budget limitations often set priorities. However, organizations can quickly fall behind, spending their time playing catch up instead of innovating. Because their partner handles the majority of basic tasks like patching and maintenance, managed cloud enables businesses to spend time on the type of strategic work that helps a company differentiate itself instead of just maintaining baseline operations. With the right managed cloud provider, this partnership will also bring new skillsets into the partnership, like deep expertise in digital platforms.
This can have a direct impact on competitive advantage. For example, online retailers use performance data, load time statistics and the impact of improved search rankings to justify customer experience improvements on a managed ecommerce platform. For each second of website latency, online visitors experience a 7 percent reduction in satisfaction, resulting in lower engagement and fewer conversions. Meanwhile, moving up in search rankings translates to more qualified leads and sales activity. Moving to a more robust, managed cloud platform holds the potential to boost online satisfaction and bottom line figures directly because in-house IT can partner with vendor expertise to significantly improve how customers interact with the company online.
Time to Market
Managed cloud can save time—and cost—in procuring, testing and deploying cloud infrastructure, which translates into practical benefits, including:
Faster deployment of your CRM, which helps ensure a smooth sales process during peak periods
Best in class functionality like online customization, chat and enhanced mobile that helps make your site a more appealing user experience
Shortened lead time on software release due to the benefits of virtualization, automation and orchestration services
David Wills, general manager of platform services at Xero, slashed hosting costs by 40 percent using managed cloud. But Wills says the biggest benefit of the managed cloud is that Xero, "can spin up environments within 15 minutes now whereas previously it used take us over an hour."Wills credits the ability to deploy hardware faster with the managed cloud as a key factor in getting Xero's new features to market faster.
Adaptability
Because of the additional expertise now available and the flexibility for internal IT staff to focuse on more value-add products, managed cloud allows businesses to quickly react to market shifts while preparing for future demands. This flexibility can help an organization to take a market-leader role instead of playing catch up.
Consider an accounting team that's been clamoring for a more tightly integrated billing and CRM system. For the level of complexity, system coordination and security requirements that must be managed, the integration requires something more customized and robust than a SaaS-based approach. The business needs to build a complete in-house solution. If the email servers, for example, were managed externally—with strict security and service level agreements (SLAs) in place—there would be more hardware and software resources on-site with team members freed up to help the accounting team innovate and take on challenges like this. Managed cloud helps free up those resources.
Additionally, with a managed cloud approach, the IT team can be more responsive and agile, reducing the chance of shadow IT. They can reinforce their role as a true partner to the business.
Employee Satisfaction
When adopting the cloud, new competencies may need to be developed within your organization or attained from outside experts. Handled the right way, this could be an important step in increasing employee satisfaction, as it allows employees to gain new skill sets and advance their careers. Embrace this change by offering employees training to gain new skills. Recently developed expertise, higher salaries and more job security, make employees less likely to leave.
Tedious chores like complex upgrades, migrations, patches and bug fixes suck time and energy out of the IT team. Managed cloud lets these professionals focus on higher-value, more satisfying projects that drive innovation.
Managed cloud providers have top quality, experienced certified IT professionals across a range of disciplines like Red Hat, Cisco and Microsoft. Tapping into their economy of expertise opens access to the experts you need, when you need them, without adding headcount. Importantly, it also enables you to train up your staff to tackle true value-add projects that they will enjoy more.
Learn More
Extending a team with the managed cloud allows a business to balance out needs and add the capacity, functionality and expertise required to stay viable in a rapidly evolving marketplace. In addition to simple cost analysis, companies should focus on the value gained from competitive advantage, time to market, adaptability and employee satisfaction.
Here at OC Cloud9. We offer fully Managed Clouds to take all of the hassle away from our clients. We also offer a wide menu of Cloud Solutions such as Hosted Exchange, Virtual Servers, Hosted Software Applications and Virtual Desktop Infrastructure within our custom Private Cloud Environment or yours. Contact a member of our OC Cloud 9 team at 949-699-6619 or via email for more information.


Information originally obtained by RackSpace's Lizetta Staplefoote on February 3rd, 2015.
You might also like