Windows Security Update Breaks Remote Desktop Connection
Windows Security Update Breaks Remote Desktop Connection
One of the most recent Microsoft Security updates to CredSSP is breaking the authentication process for remote desktop connection users.
The following platforms are affected:
Windows Server 2016Windows Server 2012 R2 StandardWindows Server 2012 StandardWindows 8.1Windows 10Windows 7Windows 10 Version 1511Windows 10 Version 1607Windows 10 Version 1703Windows 10 version 1709Windows Server 2016Windows Server 2008 R2 StandardWindows Server 2008 FoundationWindows Server 2008 Enterprise without Hyper-VWindows Server 2008 Service Pack 2Windows Server 2008 DatacenterWindows Server 2008 for Itanium-Based SystemsWindows Server 2008 Datacenter without Hyper-VWindows Server 2008 EnterpriseWindows Server 2016 StandardWindows Server 2016 EssentialsWindows Server 2016 DatacenterWindows Server Datacenter CoreWindows Server Standard CoreWindows Vista Service Pack 2Windows Server 2008 R2 EnterpriseWindows Server 2008 R2 DatacenterWindows Web Server 2008 R2Windows 7 EnterpriseWindows 7 UltimateWindows 7 StarterWindows 7 Home PremiumWindows 7 ProfessionalWindows 7 Home BasicWindows Server 2008 R2 FoundationWindows Server 2008 R2 Service Pack 1Windows 7 Service Pack 1Windows Server 2012 EssentialsWindows Server 2012 DatacenterWindows Server 2012 FoundationWindows Server 2012 R2 DatacenterWindows Server 2012 R2 EssentialsWindows RT 8.1Windows Server 2012 R2 FoundationWindows 8.1 ProWindows 8.1 EnterpriseWindows Web Server 2008Windows Server 2008 Standard.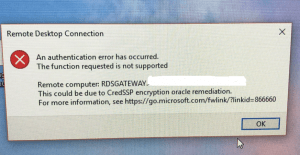 The first phase of this update was originally released on March 13, 2018.  If you receive this error message, your connection will need to be reestablished. Please contact OC Cloud9 for immediate resolution at (949) 699-6619.